REACH Only Representative Service
(from 99£/year only!)
Easy/Simple/Quick/Low-cost solutions for non-EU manufacturers
offered by a world leading regulatory consultancy in London!
(


Click here to Order now and save up to 35%


)
---

Pre-registration deadline for all "phase-in" substances in quantities of more than 1 tonne per year has officially ended on 1 December 2008. However, manufacturers/formulators and importers that exceed the 1 tonne/year threshold after 1 December 2008 for the first time still need to pre-register and must submit the relevant information to ECHA. In other words, if your company starts manufacturing/formulating or importing 1 tonne or more of a chemical substance per year after 1 December 2008 you can benefit from Late Pre-registration Provisions. Late pre-registration does not apply to companies that failed to meet the pre-registration deadline. These companies cannot continue producing or importing the substance until they have submitted a full registration dossier.

Late Pre-registration

REACH-IT will be enabled for submission of late pre-registrations from 5 January 2009.

First-time manufacturers and importers

Although the pre-registration deadline for all "phase-in" substances in quantities of more than 1 tonne per year has ended on 1 December 2008, the first-time manufacturers and importers are still entitled to pre-register after 1 December 2008.

A "first-time manufacturer or importer" is someone who manufactures, formulates or imports a substance in quantities of 1 tonne or more for the first time after 1 December 2008. The first-time manufacturer or importer (Art. 28.6) must pre-register:
at the latest six month after its manufacturing or import exceeds the one-tonne threshold, and
at least 12 months before the relevant deadline for registration.
They will therefore have to submit their pre-registration before 30 November 2009, 31 May 2012 or 31 May 2017, whichever is relevant in view of their tonnage bands.

Companies from outside the EU can not pre-register substances themselves, they can however appoint an Only Representative, such as Wellkang, in EU to file the pre-registration of their chemical substances on their behalf.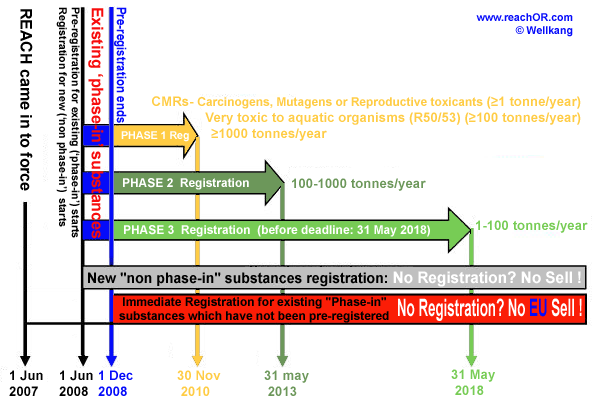 Background

On October 29, 2003 the European Commission adopted a proposal for a new EU regulatory framework for chemicals called REACH (Registration, Evaluation and Authorisation of CHemicals).

On December 14, 2006 The European Parliament approved a compromise text for the regulation.

On December 18, The EU Council, the highest legislative body in the EU, voted in favor of the REACH regulation, The REACH legislation became effective on June 1, 2007.

REACH regulation has replaced 40+ legislative texts now governing chemicals in the European Union. REACH is considered as the World's strictest chemicals law. It is one of the largest-ever EU laws put together by the EU and it will shift responsibilities of collecting chemical security information from regulators to enterprises.

This new regulation obliges the producers to register about 30,000 chemical substances placed (produced or imported) on the European single market. Many of the chemicals are substances used in everyday products such as cosmetics, toys and building materials, etc.

Eventually, chemicals covered by this new regulation will not be allowed to enter the European market without the compliance to REACH regulations.

Worldwide chemical companies should prepare for this new EU REACH regulation, to ensure continuing selling of chemical products to the European Union. There is not much time left until the deadline for Pre-registration: 30 November 2008! however, many chemical producers are not fully aware of REACH or have not yet started the preparation for the implementation of REACH.



Timeline to comply with REACH
Date
Action
1 June 2007
REACH came in to force
1 June 2008
Pre-registration for existing ('phase-in') substances starts
Registration for new ('non phase-in') substances starts
30 November 2008
Pre-registration for 'phase-in' substances ends
1 December 2008
Registration for existing substances (that have not been pre-registered) starts
1 January 2009
List of pre-registered substances published and SIEFs are formed
5 January 2009
Late Pre-registration for "first-time" manufacturers and importers starts.
1 June 2009
First recommendation of priority substances to be considered for authorisation published by ECHA
1 December 2010
PHASE 1
By this date the following pre-registered 'phase-in' substances should have been registered when supplied at:

≥ 1000 tonnes per annum (tpa) or;
≥ 100 tpa and classified under CHIP as very toxic to aquatic organisms or;
≥ 1 tpa and classified under CHIP as Cat 1 or 2 carcinogens, mutagens or reproductive toxicants

1 June 2013
PHASE 2
Deadline for registration of substances supplied at ≥ 100 tpa
1 June 2018
PHASE 3
Deadline for registration of substances supplied at ≥ 1 tpa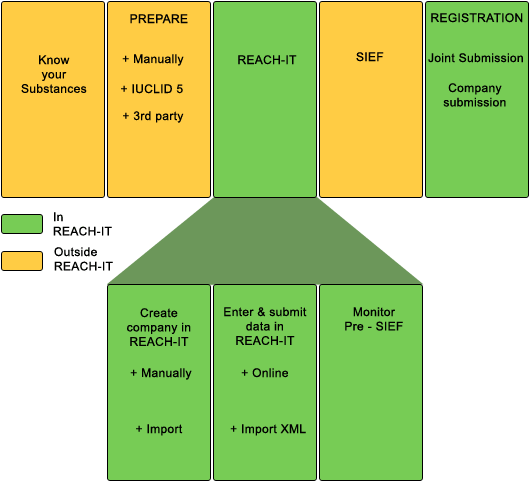 ---
*As soon as REACH-IT has be enabled for submission of Late Pre-registrations from 5 January 2009, we will submit your pre-registration of "phase in" substances within 24 hours after we have received your list of substances (on Excel Worksheet) with correct tonnage band, substance name, EC number and, where applicable, CAS number.

How to start with Wellkang ?
How to get pre-registered within 24 hours ?
What are the procedures of appointing Wellkang as the Only Representative ?

Further reading about the Only Representative

Let Wellkang be your REACH Only Representative!
Pre-register and/or register your chemicals under REACH regulation by a world leading consultancy!
Need more information or assistance?

Contact us now!